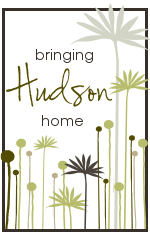 Incredible families are not uncommon in the adoption world, it is true ... perhaps you know one or two ... But this family has been incredible
THREE times
, as they yet again reach out their arms in love to grow their family one more time to include another son.
I have a friend who shared with me the saying, "If there is room in the heart, there is room in the house." Oh how true!-- Love does not divide but grows when shared.--What a blessing this family is to each other and to so many of us who have gotten to know them through their journey through everyday life! They are an inspiration just by being real and sharing it with others.
Right now their family is waiting to bring home their sixth child, four year old Hudson Samuel, who is currently living in Wenzhou, Zheiang China. He is as cute as a button and will add yet another spark of energy to this family!
They are currently holding a fundraiser to generate some of the fees for the adoption process. The fundraiser prizes are very
SWEET!
You really need to check them out. It would be a blessing to them to have you lend a hand in giving this boy a forever family! If you hurry and are one of the first 20 folks to comment, post and put their button on your blog or facebook you'll even get a a free entry to their drawing the ends July 20th!
http://keepingupwith6.blogspot.com/2010/06/fundraiser-time.html